talk to Ralph Hoehn at:

Fax:
+1-425-962-2987
Voice Mail:
+1-802-649-2555
Please tell us your name, your phone number and a good time for us to call you back after 7:30 pm EST or on weekends.
(We do check messages constantly!)
The Feel:
It's sleek
An elegant vessel. A subtly successful blend of traditional Arctic skin-on-frame influences and the very best in European touring hulls.
It's strong
Strong, light, resilient, flexible wood frame -- choice of tough Hypalon or PVC hulls with new polyurethane coated synthetic deck.
It's dry
Fully sealed, integrated type cockpit rim. Completely watertight aft deck seam.
It's fast
In the Pouch tradition of very fast hull shapes, the E68 is the current pinnacle of ongoing development.
It flies
Through assembly, on the water, packing up and then at car, train, jet speed!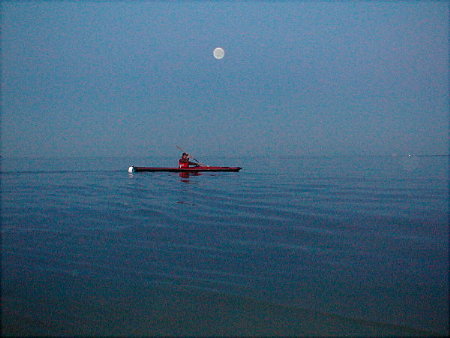 The facts:
New Assembly Method
Quickly assemble frame outside of skin, easily insert frame into skin, rapidly seal skin -- finished!
Flexibility
The ability to flex with the water is a beneficial feature of all "skin-on-frame" boats.
Beam
27 inch
Length
16 foot 6 inch
Weight
42 US-lbs (PVC hull material) 53 US-lbs (Hypalon hull material)
Dimensions of Packed Boat
51 x 14 x 10 inch
Hull Material
Hypalon or PVC (please specify preference)
Deck Material
Bretex (synthetic fabric with polyurethane coating)
Frame
Wood: Stringers of Ash; Ribs of Birch
Price
Please call (425) 962-2987 or email us at .