by Bill Samson
My home-built PBK24 folder is almost ready to hit the water. It's a beamy little tub, but only weighs 20-odd pounds.
She's got a PVC coated polyester hull and cotton deck. Handy for holidays anywhere.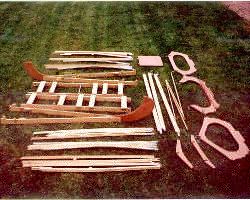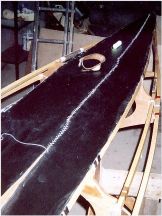 This is the new hull for the PBK24, showing the bottom panel and next one up being stitched together with a herringbone stitch on the frame. A SLOW process!
BTW: the wiggles in the seam correspond to joints in the bottom frame.
Update:
We went to Loch Lomond ( as in "the bonnie bonnie banks of . . .") last weekend with the PBK24. Had a GREAT time. The pics show me putting it together (just under an hour now, despite, or maybe because of being eaten alive by midgies), my daughter, Amy, paddling, and me paddling with Ben Lomond (as in "the steep, steep sides of . . .") in the background.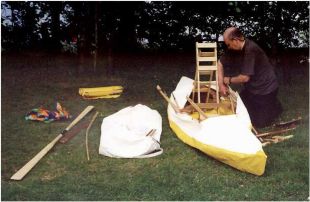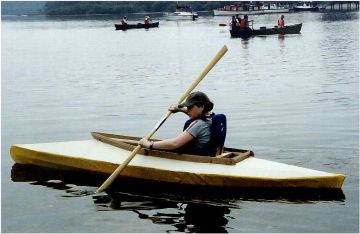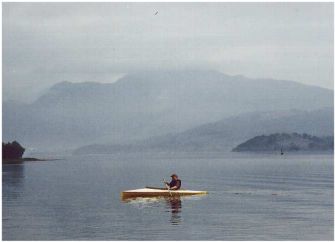 That's still the original skin (- sounds like 'original sin'). The new one is stashed away unfinished until the paddling season is over.
The kayak weighs 25 pounds, but when I put it and all my gear, including 2-part Greenland paddle, in the bag, it comes to 36 pounds.
More pictures of Bill's boats can be seen at: http://www.boatdesign.com/jumps/baidarka/Page.html
Disclaimer: All material is copyright by the original author.